Publisher's Weekly:
Gregory Maguire Delivers Another Wicked Fairy Tale

It's been seven years since Gregory Maguire has been to BEA, he thinks, but he's looking forward to it, comparing the show to the most festive New Year's Eve celebration. "If you ever want to see a room in which you get a model of shaken-up champagne, it's the Javits Center during BEA. Everyone is bubbly and bumping and fizzing about everything they see," he says. "I really like it." Maguire is at this year's BEA to promote his latest fractured fairy tale, Egg & Spoon (Candlewick, September 2014.)

Egg & Spoon, Maguire says, is a take on Mark Twain's Prince and the Pauper, set in the waning days of czarist Russia, about a decade before the 1917 Russian Revolution. When a train carrying a noble family on its way to visit Czar Nicholas II in St. Petersburg makes a stop in an impoverished village, two girls—one a peasant, the other a child of privilege—accidentally switch places. The case of mistaken identity sets in motion a series of improbable events, with characters that include a monk trapped in a tower, a prince traveling incognito, and Baba Yaga, the legendary witch of Russian folklore, who previously played a role in Maguire's 1983 middle-grade novel, The Dream Stealer.

Baba Yaga is "so attractive—she's a witch from central casting," says Maguire. "She has iron teeth and lives in a house perched on chicken legs" Pointing out that anyone who lives in a house with chicken legs would probably intend their home to be mobile, the author discloses that in Egg & Spoon, Baba Yaga's house "goes on its own walkabout and has its own story line," because, he adds, "the house has its own ambitions."

Best known for his bestselling 1995 novel for adults, Wicked: The Life and Times of the Wicked Witch of the West (which was made into a popular Broadway musical that has packed theaters for more than a decade), Maguire laughs as he admits that he's obsessed with witches. He suspects that his fascination with "powerful women who live a little off the beaten track and don't care about conforming to anybody else's sense of style, or beauty" extends back to his childhood in Albany, N.Y., when he attended a Catholic elementary school. He greatly admired the nuns who were his teachers there, he says. "They were omnipresent, swathed in black, and possessed a sense of justice that was hard to understand, but impossible to argue with." — Publishers Weekly, BEA issue, Claire Kirch, May 29, 2014

Ivan Bilibin's illustration to a
Russian fairy tale about the Firebird, 1899.
KIRKUS ★ review:
Two girls switch identities while colliding with Baba Yaga and the Firebird in Czarist Russia.

Elena, a child of rural Russian poverty in the town of Miersk, is desperate to help her ailing mother and to recover her older brothers, Alexei, at work for another family, and Luka, conscripted into the czar's army. Her determined journey finds her life suddenly swapped with that of Ekaterina, also 13, a daughter of privilege. Plot details include a pilgrimage to Saint Petersburg to meet the czar and his godson, Prince Anton, a Fabergé egg, a Firebird's egg, a legacy of matryoshka dolls, and the powerful presence and proclamations of Baba Yaga. Maguire, a veteran writer of reimagined traditional tales for a new world, jauntily explores themes no less profound than hunger and satiety, class and influence, and the sharing of resources in a world wracked by climate change. While not without flaws—a bit protracted, cluttered, overly grand and infused with some metafictive moments that occasionally take the reader out of the story—this is an epic rich with references, aphorisms and advice.

An ambitious, Scheherazade-ian novel, rather like a nesting-doll set of stories, that succeeds in capturing some of the complexities of both Russia and life itself. (Historical fantasy. 12 & up)

Baba Yaga as depicted by Ivan Bilibin, 1902.



My review:

A richly woven fable that was thoroughly enjoyable on many levels. The language was exquisite, the storytelling expert, with echoes of history, faraway lands, magical creatures, and folk legends balanced against the realities of human experience. Gregory Maguire makes an exotic Russian setting immediately accessible, funny and poignant. A fabulous read, Egg & Spoon is delightful for readers of all ages. Highly recommended.

Favorite sentence: "Then a steam whistle, which can sound like a piccolo being tortured unto death."

Next favorite: "Don't dare me. I majored in disgusting at Gulag Community College." ~ Baba Yaya
Egg & Spoon on the cover of the Candlewick Fall 2014 catalog: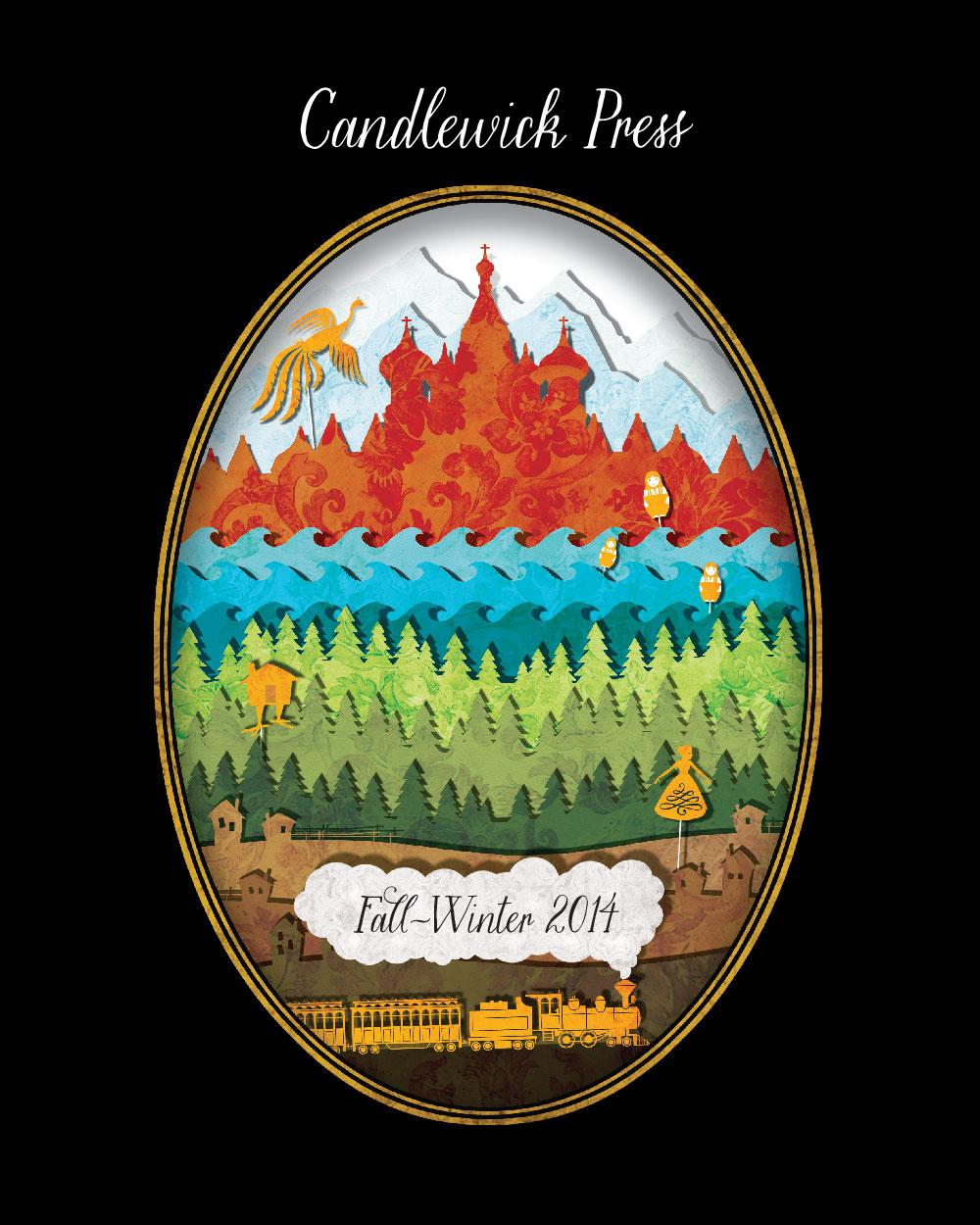 School Library Journal ★ review:
With one brother conscripted into the Tsar's army and another bound to serve a local landowner, Elena is left alone to care for her widowed and ailing mother in early 20th-century Russia. When an elegant train bearing a noble her age rolls through their barren village, Elena and her counterpart, Cat, accidentally swap places. Twin journeys to restore their former stations in life lead to encounters with murderous kittens, royal families, and even the famed witch Baba Yaga, and the challenges that lie ahead go far beyond a simple mix-up. Maguire marries the traditional "Prince and the Pauper" narrative to the Russian folktale of Baba Yaga with his trademark wit and aplomb. His lyrical descriptions of the drab countryside are equally detailed and moving as the charmed, floating courts of the Romanov dynasty. Each character is well-drawn and fascinating, whether its the prim, terrified governess to young Ekaterina or Baba Yaga herself, a cannibal with a heart of gold constantly cracking wise in her enchanted, walking house. The author weaves a lyrical tale full of magic and promise, yet checkered with the desperation of poverty and the treacherous prospect of a world gone completely awry. Egg and Spoon is a beautiful reminder that fairy tales are at their best when they illuminate the precarious balance between lighthearted childhood and the darkness and danger of adulthood.–Erinn Black Salge, Saint Peter's Prep, Jersey City, NJ

The original matryoshka matryoshka set by
Zvyozdochkin and Malyutin, 1892.
Publishers Weekly ★ review:
An imprisoned monk narrates this fabulist tale from Maguire, which draws inspiration from Russian folklore, Cinderella, Alice in Wonderland, and Twain's The Prince and the Pauper, while incorporating a modern thread about the threat of climate change. On her way to be presented to the Tsar's godson, wealthy Ekaterina is marooned in a rural village when a broken bridge stops her train. Peasant Elena approaches the luxurious train to beg, and the two girls take tentative steps toward friendship; when the train starts moving again, the wrong one is aboard. The journey to their eventual reunion brings Ekaterina in contact with legendary witch Baba Yaga. Though the setting is circa 1900, Maguire's riffs are mostly contemporary: Baba Yaga complains about regifting, owns the original cast recording from Damn Yankees, and bemoans that she's out of "Granny Yaga's Frozen Tater Tots, made from real tots." Like the matryoshka doll Elena carries, there are a lot of layers to Maguire's story. Rich, descriptive language will reward readers who like to sink their teeth into a meaty story. Ages 12–up.

Set of Matryoshka dolls nested inside each other.



Author Monica Edinger's Educating Alice blog review, Coming Soon: Gregory McGuire's Egg & Spoon, "A unique and wonderful read."

About Gregory Maguire:
New York native Gregory Maguire rose to fame with his best-selling novel WICKED, which has sold millions of copies around the globe and remains a sensation as a Broadway musical. Now the author of an impressive collection of nineteen children's books, five adult novels, and numerous short stories presents a mesmerizing new novel: WHAT-THE-DICKENS: THE STORY OF A ROGUE TOOTH-FAIRY, a fantasy that is sure to engage children of every age and background.

It was in the aftermath of Hurricane Katrina, the author says, that he turned what had been a thirty-page BOSTON GLOBE serial project called "Gangster Teeth" into a longer novel with a much larger bite. "I found a way to expand a light-winged story that would not, I hoped, make light of children's suffering or the need to believe in the next good thing that might happen," he says of his latest novel.

Gregory Maguire worked for eight years as a professor and associate director at the Simmons College Center for the Study of Children's Literature before receiving his Ph.D. in English and American Literature from Tufts University. "Nothing serves a writer better than getting to teach children's books as literature—as an art form that relies on traditions of narrative shapeliness and verbal pizzazz as well as saucy innovation," the author says. He also co-founded and currently co-directs Children's Literature New England (CLNE), a nonprofit educational charity that promotes awareness of the significance of literature in the lives of children. With those aims in mind, Gregory Maguire has served on the juries for the Caldecott Medal, the National Book Award for Children's Books, and the NEW YORK TIMES Best Illustrated Books of the Year.

And what advice would he pass along to aspiring young writers? When he himself was growing up, Gregory Maguire mimicked Harriet the Spy's investigative route. "Get a spy notebook and spy on everyone," he suggests. "Try not to get in trouble. Try not to break the law. But pay attention and write it down. That's the best training a would-be writer can have."

Gregory Maguire lives with his family outside of Boston, Massachusetts. (from the Candlewick website)

Egg & Spoon
Gregory Maguire
9780763672201
Candlewick Press
Cloth, September 2014
$17.99

Related:

Recommended by Monica Edinger: